Top 3 winter 2022 drinks with hibiscus
While we are big fans of comforting herbal tea, when winter arrives and our consumption of hot beverages starts to increase, it's nice to mix things up!
Winter is all about warmth, and nothing says that to me like a delicious cup or glass of something sweet. Here are the three drinks that JOGO JUICE brings to you to warm up the winter, and bring a little warmth during the cold season!
Whether it's a traditional hot steaming drink, or a gourmet cocktail, our winter drink recipes are perfect for celebrating the holidays.
Snuggle up in your fluffiest sweater with your JOGO JUICE and get the party started with a batch of our wonderful hibiscus juice.
Fill every glass with our favorite festive drinks and mouthwatering non-alcoholic beverages for every taste.
COCKTAIL HIBISCUS ET CANNELLE

+INGERDIENTS
1 serving
0.5 oz lime juice
0.5 oz. honey
¼ teaspoon cinnamon
4 oz. white hibiscus juice JOGO JUICE
1. Pour in the lime juice, honey, cinnamon and JOGO JUICE white hibiscus juice.
2. Stir
3. Consume very fresh
HIBISCUS MOJITO

+ INGREDIENTS
1 serving
2 oz of vodka
3.5 oz. JOGO JUICE red hibiscus juice
7 sprigs of mint
1 lime, quartered
1. Remove mint leaves from stems
2. Peel the mint with the lime to release maximum flavor
3. Add the vodka and then the red hibiscus juice JOGO JUICE

        HIBISCUS HORCHATA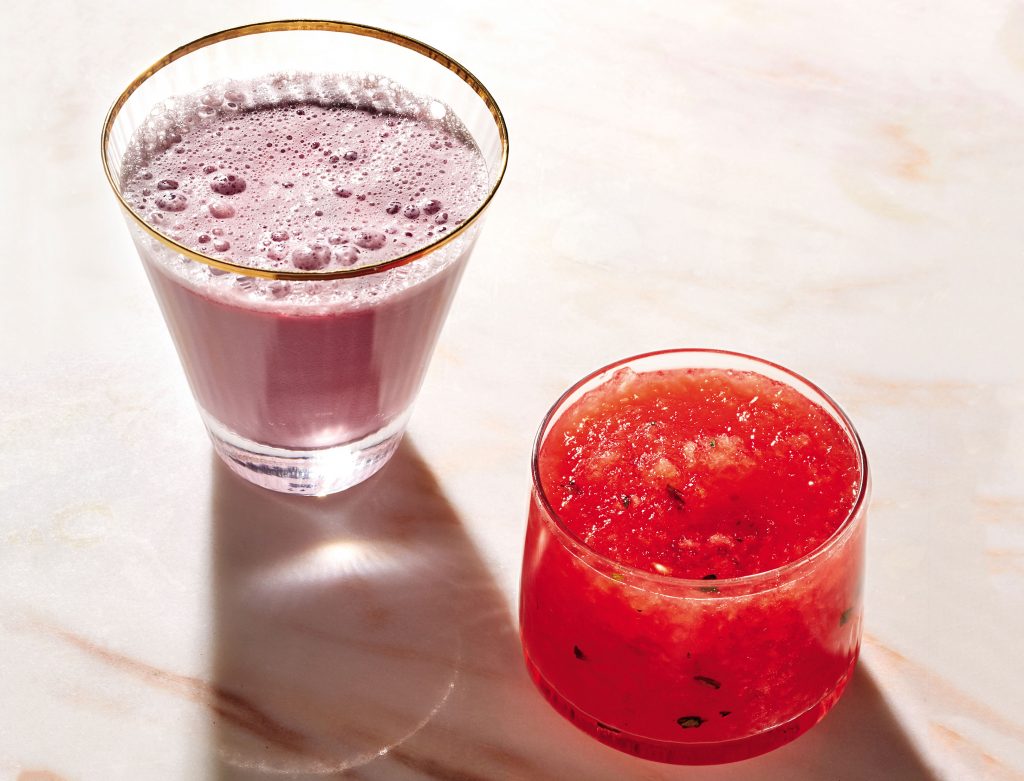 + INGREDIENTS
1 cup of tiger nuts
4 cups filtered water, divided
4 cups JOGO JUICE red hibiscus juice
¼ cup honey
½ teaspoon vanilla powder or 1 teaspoon vanilla extract.
1. Using two separate containers, soak the nuts in 4 cups of water.
2. Strain the nuts and discard the soaking liquid. Transfer them to a high-speed blender.
3. Blend on high speed until completely smooth, about 1 to 2 minutes.
4. Strain the mixture through a cheesecloth. Add the JOGO JUICE Red Hibiscus Juice
5. Stir in honey and vanilla, and serve with ice.
Hibiscus flowers are celebrated around the world for their beautiful color, but many people don't seem to know how delicious these beauties are. They have a tangy, lemony flavor that is reminiscent of a combination of lemon, cranberry and roses.